Today is a special day, it is the Birthday of my grandmother, Rosemary Virginia Boyer. She is 88 years old today and as independent as the day she turned 28. She is the most joyfully, content, pleasant person I know. Never an ailment to complain about but always a comical antic, a fond story, or a the recounting of lessons learned.
Even though she believes herself to be under educated, She has imparted more wisdom upon me, than most people I have encountered thus far in my life, and has always done so with a shining attitude that I believe would put most people in shock. She has not had the perfect carefree life that would give her the bliss that she lives her life with. She had trials and more than a fair share of unmerited hardship growing up. She has had to work for everything that she has, and she may not be rich by the world's standards but is thrilled with what she has more so than some of the richest men in the world. She raised two very strong willed independent men. And has won a battle with cancer.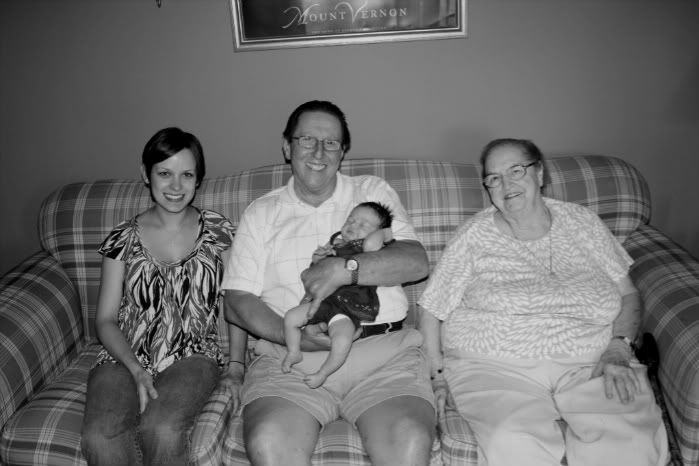 4 generations
She can bake a cake to taste with no recipe and one hand tied behind her back, constantly hums old songs sung by nat king cole and other respectable musicians from before I was born. She always has candy orange slices in a dish behind her recliner and often falls asleep to the eleven o'clock news. She watches game shows most of the day and can kick anybody's butt in almost any card game (I did beat her one time, but that was a fluke and I'm the only one in the family who can say that!) Rose, what her friends call her, Rosemary, what her sons call her, Rosie, what her family calls her. The woman who always made me mac and cheese, whose knee I sat on to watch countless disney movies, and hear stories about my grandfather (who died before I was born) she would take me to her ceramics class so that I could paint a teddy bear figurine for every holiday on the calendar and came to a dozen school plays, recitals, and concerts because she's proud of her family!
If your first name is common knowledge and your last name defines you, then what lies in the middle is the mystery of who you are, the secret of what lies within. From before I knew I was pregnant, before we found out we were having a little girl I knew my daughters name would honor this woman, the matriarch that founded the stubborn independence that runs in the family, the name that holds the key to the beauty that radiates from my grandmother.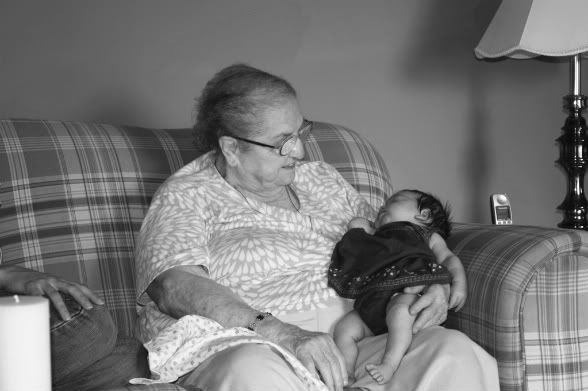 The joy that she brings everyone who comes into contact with her is unprecedented. She has a peace that surpasses all my understanding and unbeknownst to any of us has decided to show us how to age gracefully and enjoy the little things in life. She loves getting phone calls for no reason, and will never keep you tied up more than ten minutes because she's so sure you have something more important to do than talk to her, most days I don't!
She's always there when I can't quite get a recipe right and gave me the inspiration years ago to tackle the kitchen and still cheers me on whenever I decide to cook something way out of my skill level.
If I have half the grace, pride and joy in my life when I'm half her age I will count myself among the lucky. I hope that Addiston is blessed with her sweet spirit and ability to always look on the brighter side of life.