Oh welcome back routine! My girl and I both thrive in the daily routine we have settled into and for the past week or so it has been missing from our lives.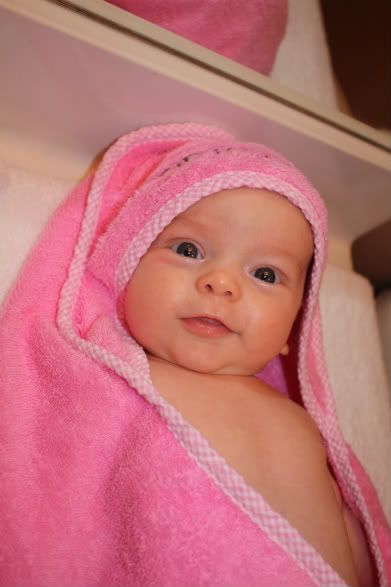 Weekend before last we said sianara to the daddy and took our first girls only road trip (

I'm sure their will be many more to come!

) we set out to Grandma and Grandpa's house in Cincinnati. My parents along with myself, and Jared were all slightly worried about us two traveling the five hours each way by ourselves but we did great! She slept almost the whole way and there was barely any traffic!

We spent the first night there hanging out with Aunt Heather who is a pro with the babies and then on Saturday Great grandma came out to see her namesake. And Sunday we attended her cousin Elaina's first Birthday party where she slept most of the time!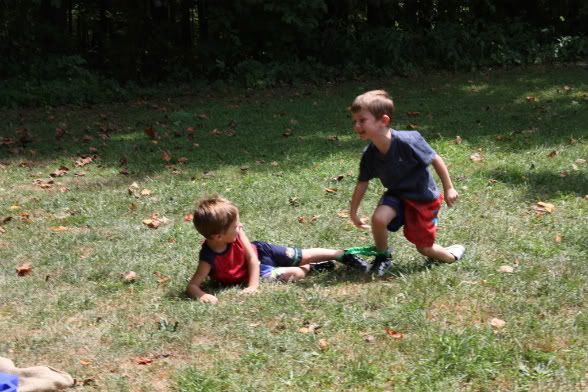 3 year old in a 3-legged-race (

don't know if it's a good idea but it was entertaining

)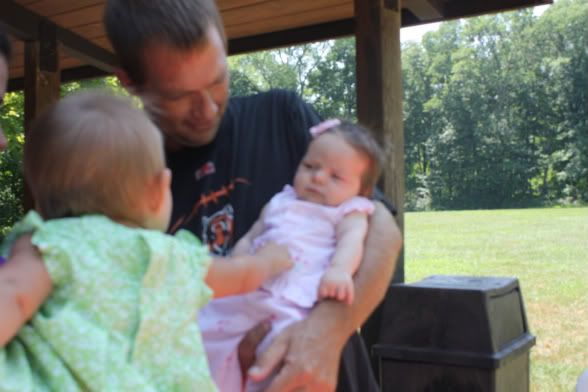 Meeting uncle Jeremy for the first time (

sorry bout the blurriness manual focus was on

)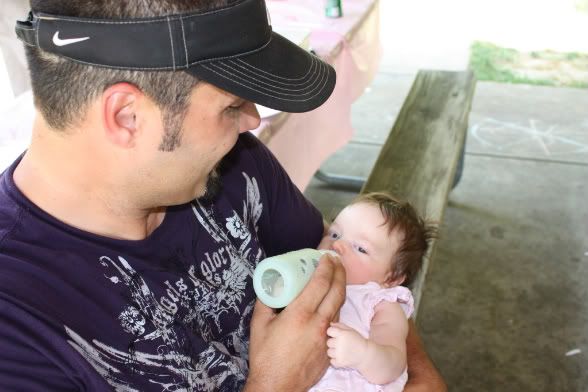 Uncle Tim feeding her a bottle!

Last weekend we (

all 3 of us

) ventured the 8 hour car ride to Daddy's home! Her first time there. As always the entire weekend was laid back and filled with rich amazing food and family! My mother-in-law can cook! Saturday they had a baby shower to honor the little one and she was introduced to her amazing family up north!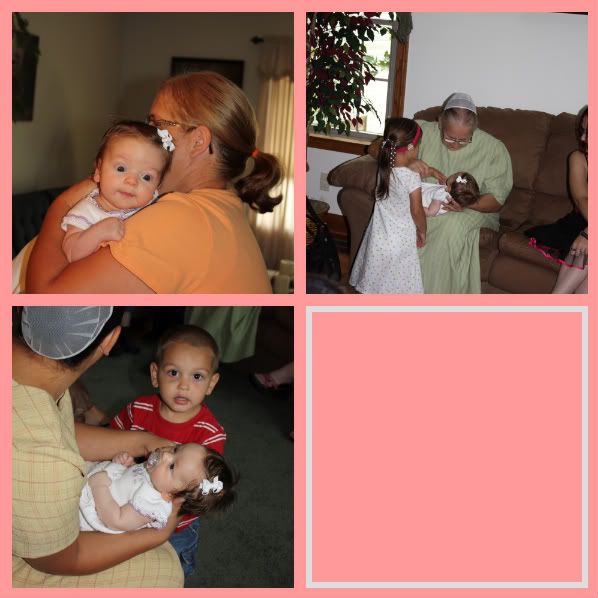 This room, this perfect little girl room, full of pink and prayers for this little one. A room that we spent hours painting every little detail and then a few more hours re-painting the parts we messed up.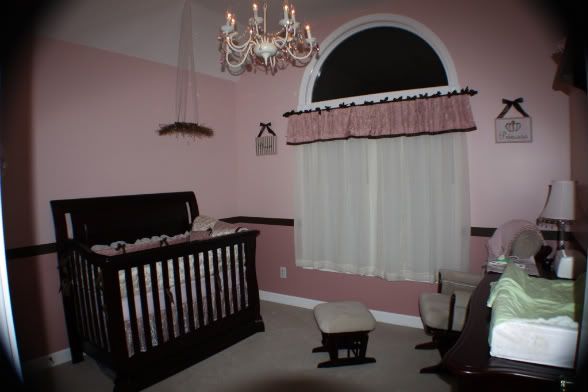 This perfect room with the furniture we deliberated over, matched fabrics and paint chips to. The perfect bed that she can grow up in and the mobile I spent days making. The chandelier that was searched for high and low on the internet and hung with care by a daddy precariously posed atop a 10 foot ladder.

This room that last week her daddy pointed out we rarely used except for a few diaper and wardrobe changes a day.

Well last night she got to be a part of that room, after a few nights of being back in her house and readjusting to her normal routine the daddy decided that last night would be a good time for her to sleep in her own room for the first time! I reluctantly agreed-knowing it was time but still not wanting her to be out of my sight!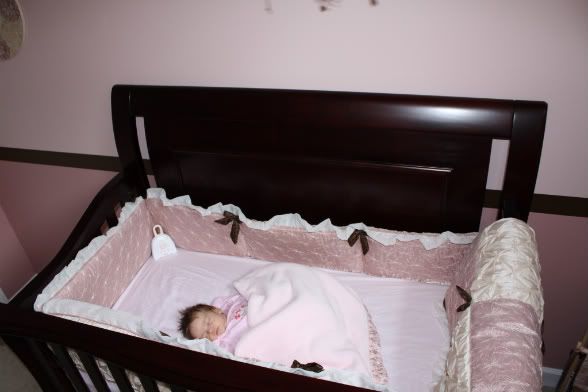 She did great, (slept till 5am, ate, then went back down till 8.)

and I only shed a few tears! I hate how fast it's all going, sometimes I get frustrated when she wants to be held constantly or when she is fussy for no apparent reason. But just for a split second, then I remind myself that a year from now she'll be squirming to be out of my arms and I won't get to snuggle her whenever I want because she'll be on the move. So for now I enjoy her littleness, her dependency and the fact that before she was born and I realized how big a waste of money it was I spent $20 on a onesie!