This past weekend we packed our bags, left out pie plates of food and water for our increasingly neglected cats, commissioned friends to be our airport shuttle, and we went away.
We've made several trips back to Ohio since our little one was born. Birthday parties, weddings, family gatherings, the holidays brought several road trips in the beautiful winter wonderland that is the north. This weekend instead of loading down the BMW with way more stuff than it should hold we cut back, crammed everything into my mammoth sized suitcase and headed for the airport. Jared strapped on the baby pack and braved the airport which to our surprise was relatively empty!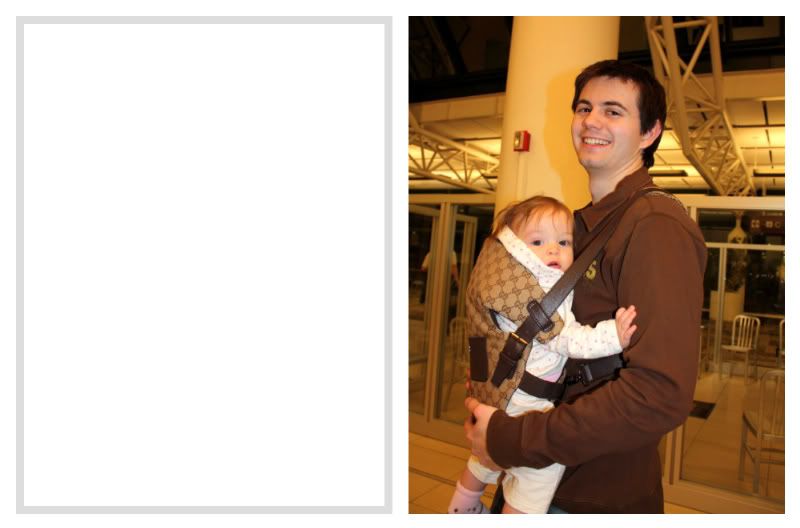 Addiston stayed up well past her bed time taking it all in, I attempted to be sneaky booking our departing flight for precisely at her bed time, hoping that she would doze off and be the perfect little in flight baby that everybody adores. HA! What was I thinking?
She stayed up the whole time, peaking over seats meeting new friends and flirting with the gentleman behind us. He gladly put away his business documents to play peek-a-boo and the silly face game. While she wasn't busy broadening her social network she had her face pressed up against the window; Mesmerized!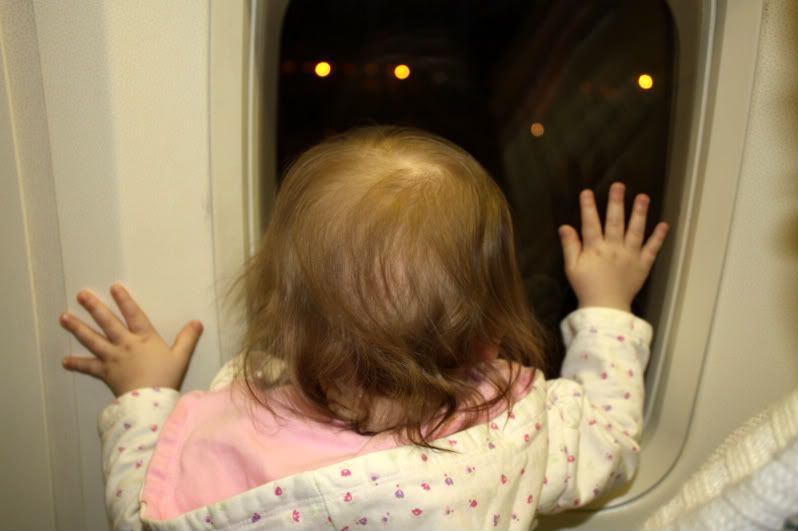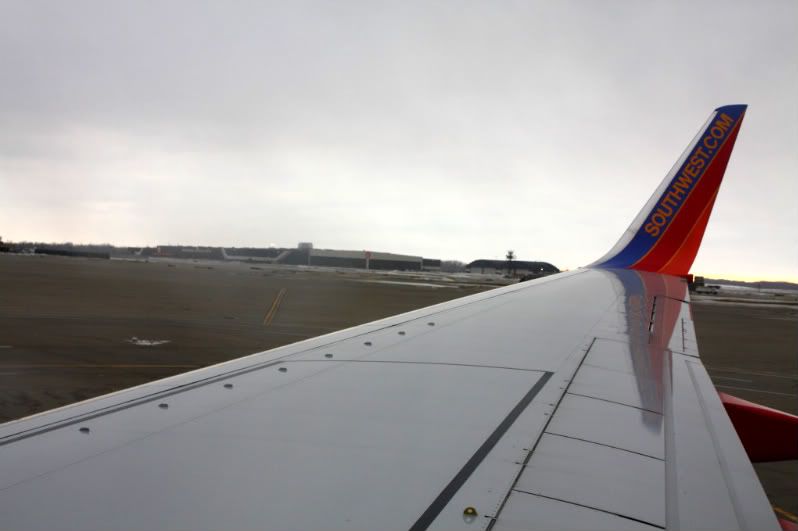 We got to relax, sit down and visit with family and friends. Jared's mom, Amanda, jumps in at the drip of a hat, takes a discontent baby and entertains her without skipping a beat. It was beautiful.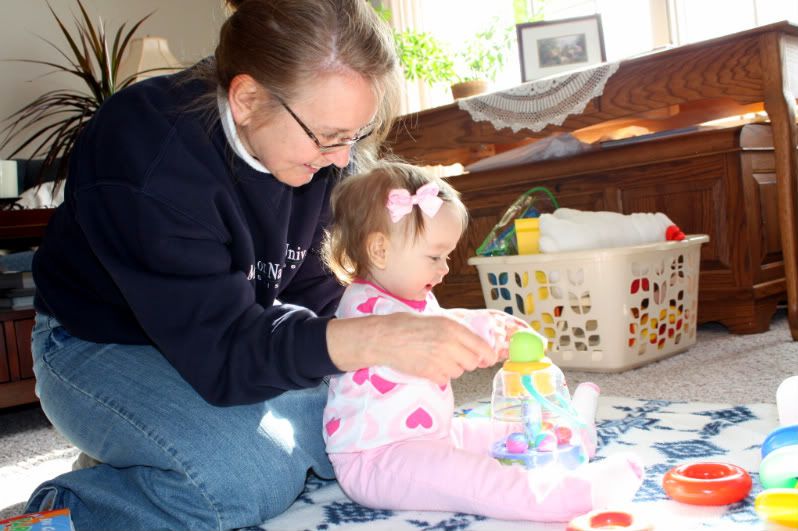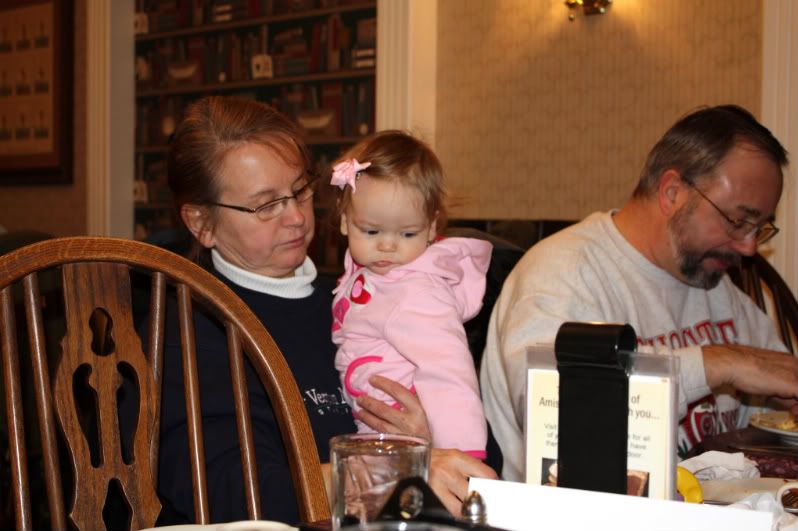 We went out to Breakfast with 50 of Jared's relatives for his grandmothers birthday. And no, that isn't a typo, fifty. I couldn't help but sit back and take it all in, the children and the grandchildren all there to celebrate the life of a beautiful matriarch, a women who humbly said she felt so blessed to have anybody show up. We 50 weren't even the tip of the ice burg!
Four generations!
She could sense we were getting ready to leave her and as soon as we walked down stairs Sunday night, and she started muttering, ma-ma, da-da and when he picked her up she clung on for dear life.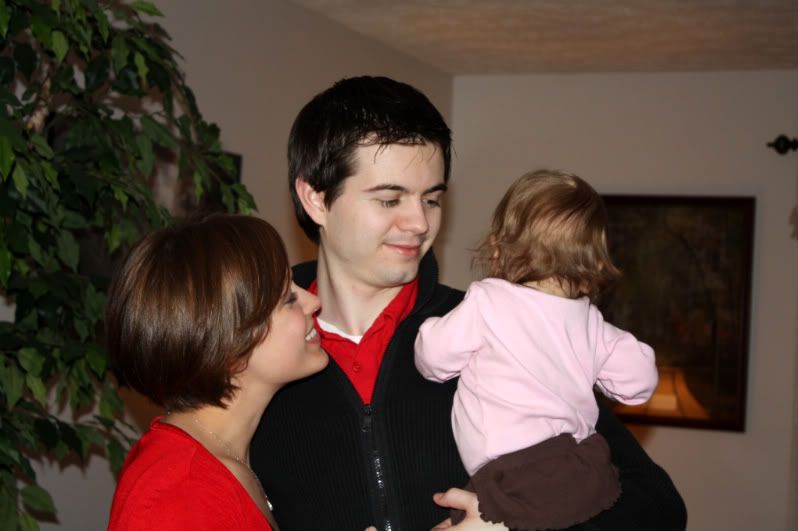 We were able to go out for Valentines day, thanks to Jared's parents volunteering to watch her. We ate way too much sushi at a small little place which was cute and quiet, it was all but empty and I assure you wasn't because of poor food quality but because it was a sushi bar just outside of Amish country, the two really don't mix.
We visited Jared's old office and got to see some old friends from college. Monday morning we met some of his old high school friends for breakfast. So sweet, I wish we lived closer, because this cute little couple is moments away from having their first little girl and they will be amazing parents. She is the cutest little pregnant thing I have ever seen and I really want to live around the corner from her and take lessons in being absolutely stunning at full term!
She stole my peanuts on the way home!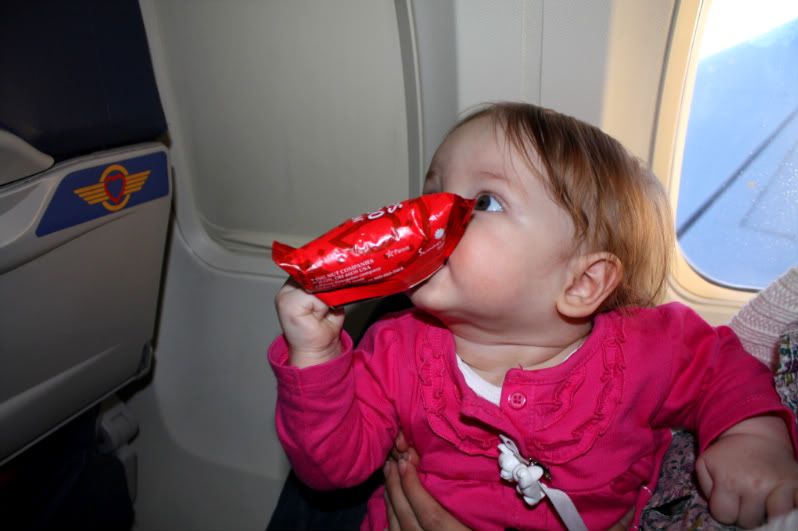 Two and a half hours of flying trumps sixteen hours of driving every time! Miniature bags of peanuts and soda in plastic cups that are too small beat drive through fast food. Thank you southwest airlines, you made our weekend away so much more relaxing.
We got to visit with friends and family, celebrate love and another year pasted but for the most part the weekend consisted of sweats and relaxation, sitting around the table eating way too much of Amanda's amazing home cooked goodness. recognizing how much we miss and love each other!