Well as many of you probably noticed and as my husband pointed out we took
all
most of Addiston's stuff to make
Isabella's room
. He was left feeling pretty guilty about the whole situation, where as I was excited to turn her room into a big girl room that I knew she would love.
It didn't happen in one fair swoop as I'd hoped it would, but isn't that how life goes? We plan for something, make preparations and then everything gets thrown all out of kilter?!? With the nursery being delayed in it's completion the nesting crazy mom-to-be in me wanted to get everything done I could. First things first we got rid of the crib, Addiston was so ready to be in a real bed and it really has made our lives a lot better (
for those interested-NO she still doesn't sleep from the time we put her down till morning, she usually gets up at least once during the night but will simply come in our room to say "hi" and then Jared walks her back to bed-where she stays till sunrise, upon which she climbs into bed with us, since her room faces east and ours is completely blacked out!
) At first we just threw a mattress on the floor and let her get used to the concept before we hoisted her 3 feet off the ground.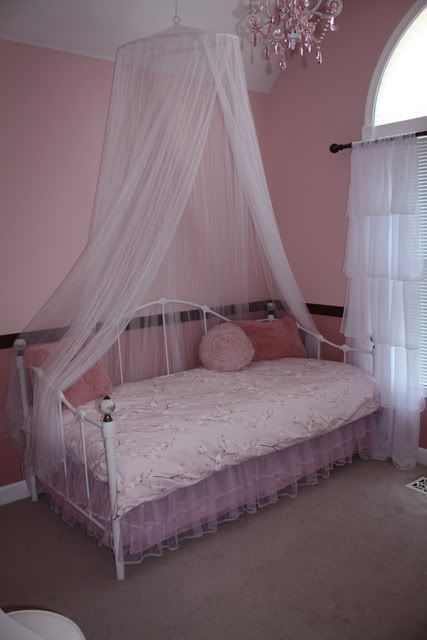 She is sleeping in my first "big girl bed" a day bed that my sister Heather and I shared at my dad's house and the bed that I slept in until the night before my wedding. My parents offered to upgrade my bed when I was in high school but I love that bed, and I love that Addiston loves it too. It did have it's fair share of dings and paint chips from being moved three or four times so I touched up the white parts and those bronze parts on the posts used to be brass, so it has had a minor facelift!
The second thing to go was her dresser, I was anxious to start washing baby clothes that had been in storage for nearly two years while I still had energy and could carry and laundry basket up and down stairs. I needed a place to put all these clean clothes so one afternoon we pulled the ol' switch-er-oo.
This dresser is low and Addiston loves that she the top, and see in all the drawers. We found it online and I refinished it to match her room.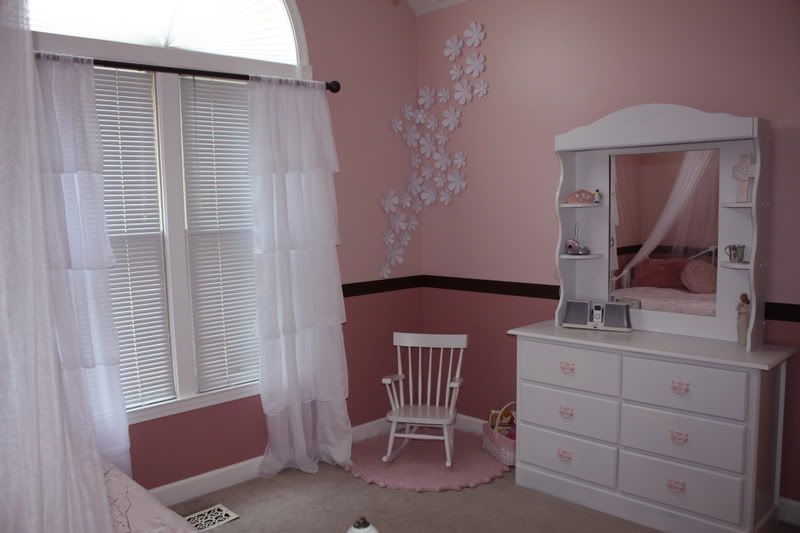 Jared's parents got Addiston this sweet rocking chair for her 2nd Birthday. She loved to sit in the glider rocker with me and read and I knew that was going to be her biggest adjustment at having her room redone. Luckily she is in love with this little "addy sized" chair and I find her sitting in it several times a day reading to her dolls.
The rest of the room took some careful matching of shades of pink, Addiston's room was very carefully painted to match the nursery bedding and I didn't want to change it or move her to a new room and while I love the shades of pink in there, they are more of a dusty rose and peony pink as opposed to the bubble gum-hot pink that is so easy to find in little girl decor.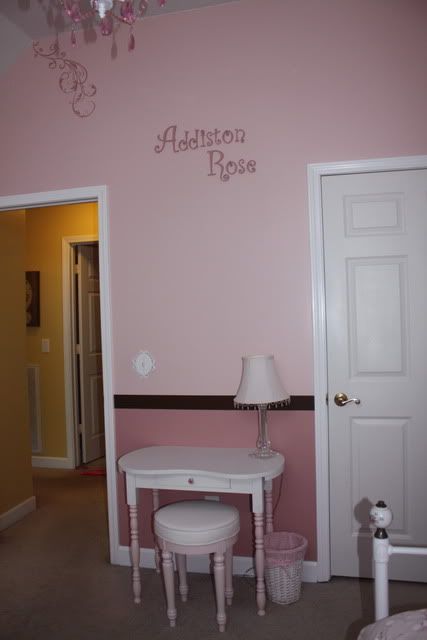 She loves her new room and hasn't once gone into Isabella's room and said or even eluded to the fact that just about everything in there used to be hers. We've worked really hard to try and squash the m-i-n-e word that she picked up from her cousins. I don't know if her easing going-ness will change once there is actually a baby sister here using all of the furniture but for now we're happy, and so is she!
Oh and she got a new chandelier too...gotta love the vaulted ceilings that let me do frilly stuff to my girls rooms!