It brings me to tears to try and express the miracles that have occurred in our lives these last few days! She is here! She is perfect. She has changed me. She is everything I never knew I always wanted!
Wednesday morning came just as it should have, like any other day, Addiston woke us up. My parents were here and we all sat around the kitchen table as I made pancakes-that I wasn't allowed to eat. We took longer showers than we usually would, knowing they would be the last of their kind, and got ready to head to the hospital.
Last shot as a family of 3!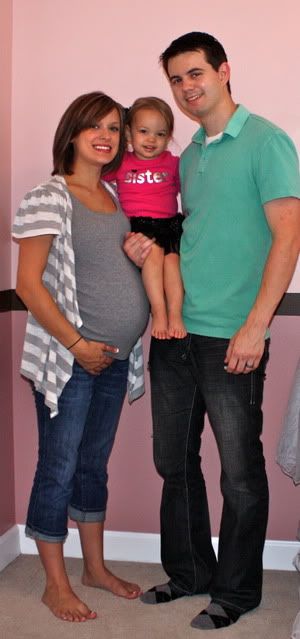 Ready to be a big sister!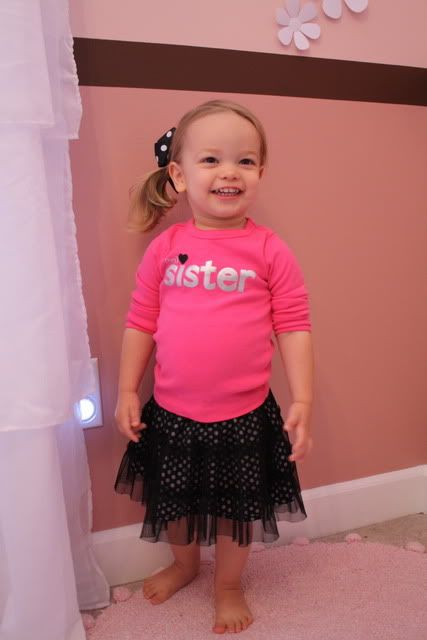 Jared and I spent a little time alone with Addy and we all prayed together for Isabella and myself before we had to leave for the hospital. We got the hospital in true fashion-20 minutes late! We were ushered through the regulatory processes of gowns, vitals, and pre-op procedures. After the commotion died down Jared and I had a little down time to ourselves before they wheeled me back.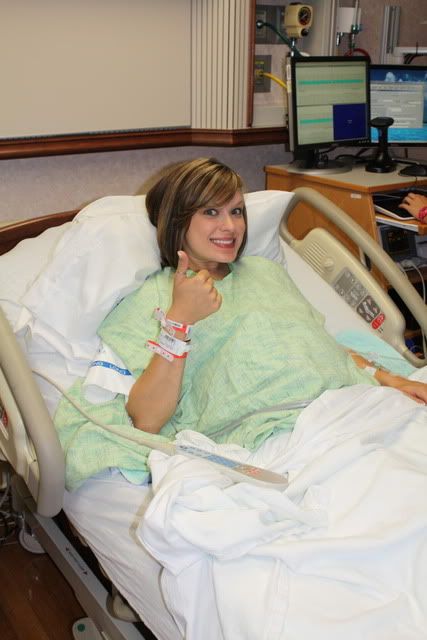 We talked about our fears of adding another baby to the mix, and making sure we balance time between both girls. I expressed my fears of undergoing major surgery and we prayed for peace, safety and a healthy girl.
We headed back to the OR and Jared sat in the hall while I became a floating head.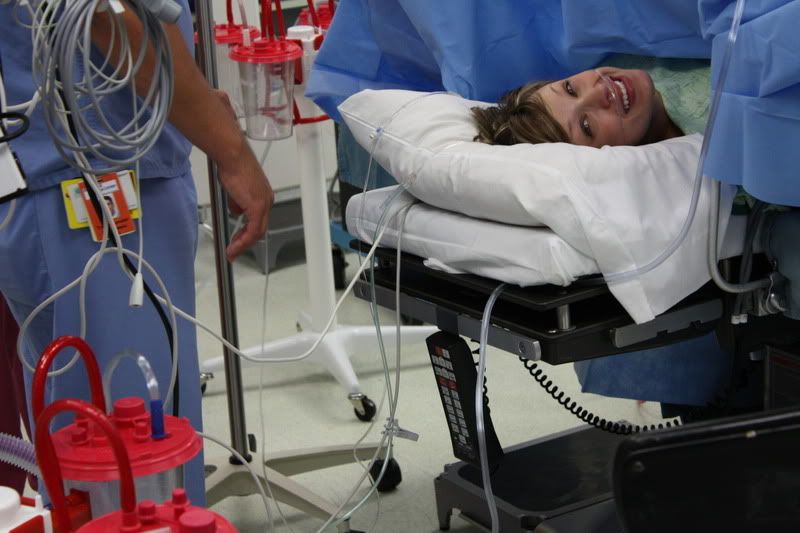 I had worked tediously on a birthing playlist when I had Addiston and subtly tweaked it for Isabella's birth. Little did I know that the doctor gets to pick the music in the OR and Isabella was born to a bluegrass mix from none other than steve martin's band. (father of the bride is my favorite movie so it could have been worse) I had 2 of the same nurses this stay as I did with Addiston as well as the same anesthesiologist. And can I just say that after 14 hours of hard labor with Addiston, Tom-the anesthesiologist looked like a knight in shining armor, this time when he walked in my room a little voice in my head said-what were you thinking?!?
20 minutes into surgery she was born, She is Perfect. Weighing in at 7lbs, 2 oz and measuring 20 inches long, she was bigger than I thought she would be considering how sick I was this pregnancy and that she was born 6 days before her due date. When they were taking her out the doctor exclaimed "woah, look at that cord" nothing else was said and I didn't think much of it. Later I was told that the umbilical cord was wrapped around Isabella's neck twice. Thank the Lord for a scheduled necessary c-section!
The first time I got to see my girl.
The hardest part for me of having c-section babies is that when they are born they are taken away. She was quickly passed over my head, wiped down and I was allowed to kiss her forehead and let my tears fall from my cheek to her shoulder. However I believe that God knows what he's doing and that my sweet, shy, husband needs this alone time with his girls before I swoop in and hog them. Its a beautiful thing to witness, Jared falling in love with his daughters.
Jared and Isabella were escorted to the nursery for a more thorough inspection and I spent the rest of the surgery, about an hour praying and thanking God for another miracle baby and a healthy one at that. I can't believe that I am so blessed as to have 2 perfect, healthy girls, when 5 years ago doctors questioned my ability to have children at all.
Roughly and hour after she was born I got to hold her for the first time.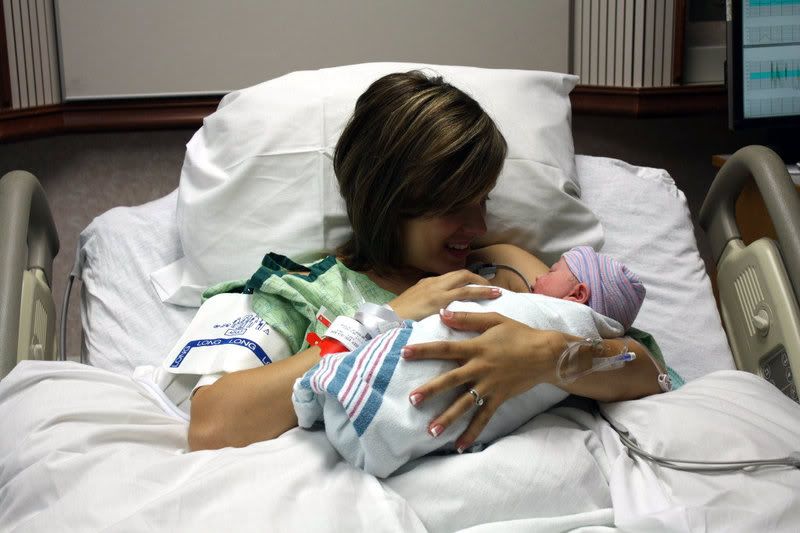 I spent some time in tears of joy while Jared told me how perfect she was and how beautiful we both were. We both were so overwhelmed with joy that things had gone smoothly! After a bit Jared went to the waiting room to fetch the big sister who was waiting with my family.
Addiston loves her little sister, she exclaimed "Isabella came out to see you" and was thrilled that we let her hold the baby. The rest of the family came in, to meet her and then rather quickly left so that I could nurse and recover from being sliced in half.
I am so thankful for God's grace and goodness to us and blessing us with our girls. He knew exactly what I needed when pairing me with Jared, that he is the perfect daddy to our girls and exactly what I need. It was just the three of us, alone in quiet, Jared and I amazed and grateful for our girl. Her tiny perfect features, and her beauty.