This weekend was bliss.
It took me to a place before the babe was born. Back when I could deep clean our entire shoebox apartment in just over an hour, and had at least four commitments a day, to school, work, volunteering, or another work. Back when Jared and I were still in Ohio and I was way over comitted to a billion different wonderful things, we would have weekends where we were going non-stop, running all over town, keeping afloat only with excess caffeine. This weekend was like that again. The oh-yeah-I need-to-do-that-too kind of busy that leaves you invigorated and wanting to keep going, not that icky kind that makes you dread waking up in the morning.
This weekend was like a big warm donut. The kind with cream filling. When you see it you know you totally shouldn't eat it, or at least you should split it with a friend because lets face it, there's probably a whole weeks worth of calories in one of those bad boys. But in the end you indulge. When you bite in the cream filling inadvertenly oozes out the sides because there's just more in there than it can handle, and whoa is that the good stuff or what?
Friday morning was my first expereince at a Moms group that I absolutly loved. There were about a dozen or so other moms and can I say how liberating it was to be in the company of other women who totally get it if I don't sit down to talk but stand and do the bouncy baby dance to keep her calm. That don't even flinch at the pitiful fake wimpering of a half asleep baby but just smile and nod because they've been there, they know what's up and hey they don't judge if I put the pacifier right back in the kids mouth if it fell on the floor.
Friday night was a mass of food and a redboxed movie (The Karate Kid- which was decent!)
Saturday morning bright and early was the Susan G. Komen Race for the Cure and we did our first 5K as a family.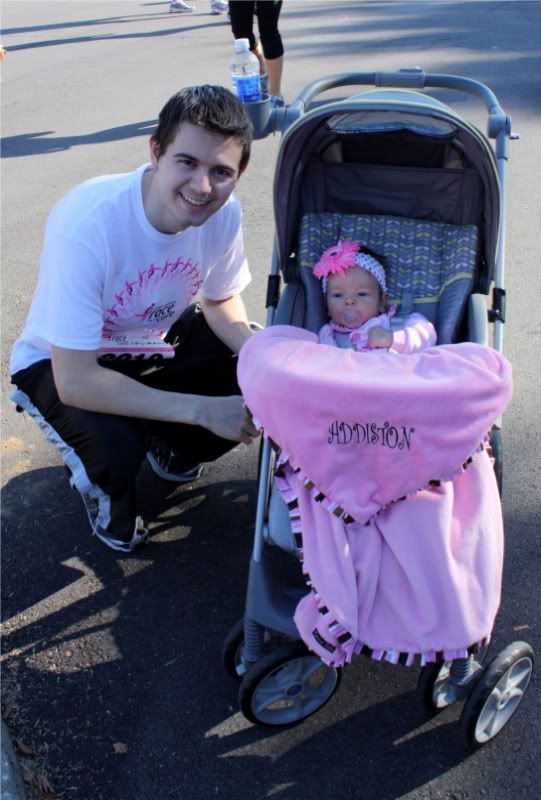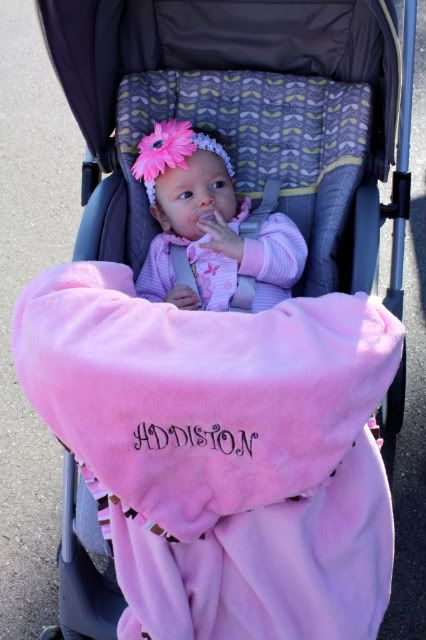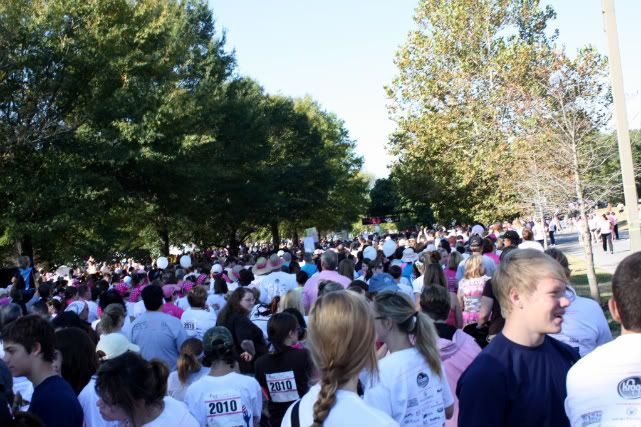 A small glimpse at the mass amout of people who showed up to participate. It was amazing to see.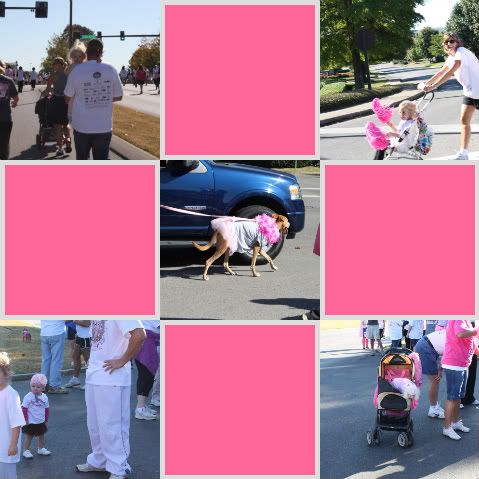 Some people went all out!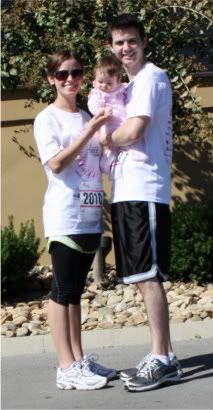 We did it in honor of my grandma Rosemary who is a breast cancer survivor! We intend to make the race an annual family event. We want to help support the cause and want to teach Addiston and any other children that we have the importance of doing things for others.
To add to that affect Saturday afternoon we helped a family from our church build a pond in their yard.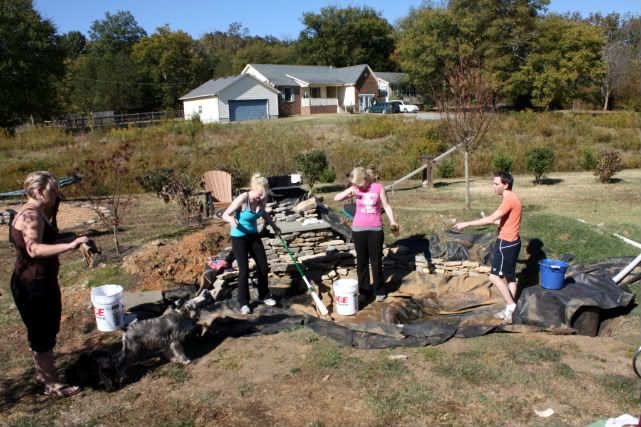 It was a little gross but mostly fun.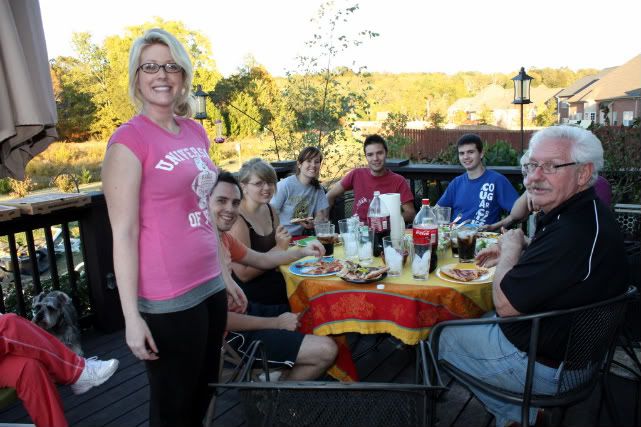 It just goes to show that if you gather friends and have some food that any task can be made into a good time, smashed fingers, frogs and all.
Sunday held church and an afternoon meal with a lovely older couple who have had a wonderful life of serving God and traveling to places I hope to be able to see someday. It was enchanting to sit and chat with them over good food, in the company of friends who passed our little one around sharing the love.
Sunday night while the Daddy was away guess who decided it was time to start crawling?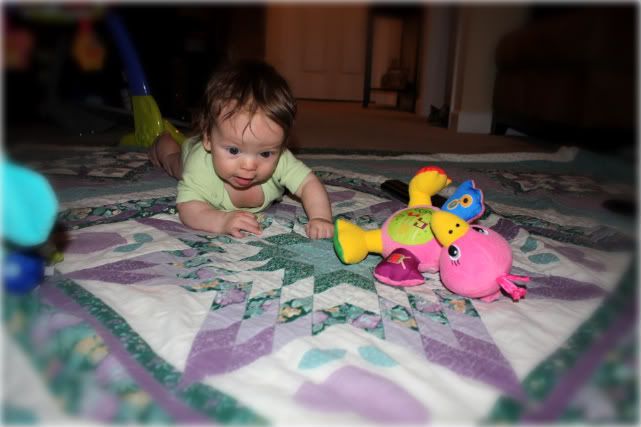 ok ok so it wasn't as much as a crawl but a get the feet up under her belly and then launch herself towards her toys, but she did it several times consecutively and has repeated the gesture a few times since. So, we're gonna call it crawling.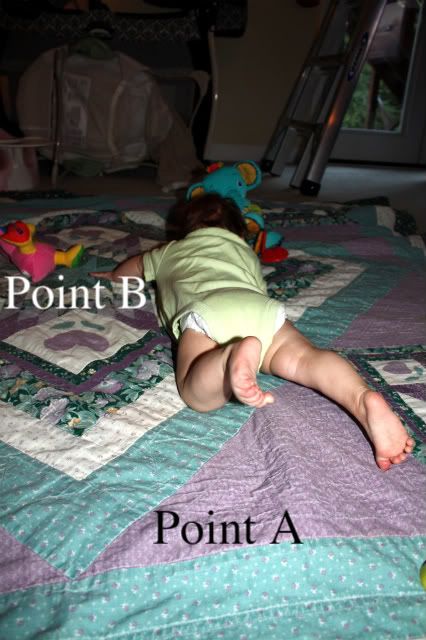 We have been blessed with great friends and are enjoying everystep of getting into the groove of doing things as a family. We broke record high temps this weekend, 91 degrees in the middle of October, Lovely? I think so! The leaves are changing and the beauty of parenthood never ceases to amaze me. I went to bed with sore feet, scratches all over my hands, and a smile on my face. Nothing on the to-do list got accomplished. The laundry is piling up pretty high and I think we ate out more than we ate in (not a habit we practice). But oh buddy did we live! We met new friends, did things for others and enjoyed every last smudge of life's cream filling!