Wednesday was our three year Wedding anniversary.
We don't like to go all out on gifts but prefer to go out to a super sassy restaurant. Our original goal when we got married was to take a trip every year on our anniversary. The first year we went to Italy, the second we had paid for a trip to Hilton head but refunded it to buy a house and this year, well the thought of traveling with a newborn just scares me! We weren't sure we would be able to venture out to a swanky little spot this year because of the babe. And the idea of not celebrating was slightly depressing.
A lovely couple friend of ours watched Addiston and we were able to sneak away to a romantic dinner in the city. There was no taking turns eating a bite or two between pacifying a baby who doesn't want to be in a bouncy seat. There were no rattles thrown on the floor, dishes to do, nor having to rush through the meal so we can give the baby a bath.
Jared picked the restaurant this year and I had my reservations but it was Delicious. We had a great time and feel so honored that even though we don't have family close, we have friends who are willing to help us out on a random weeknight.
Oh and just because I can...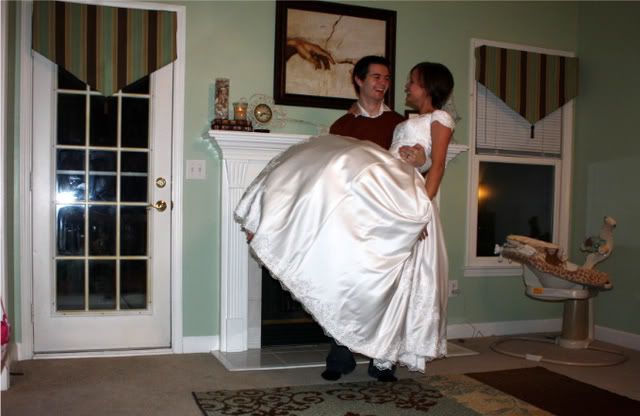 I wore my wedding dress just for the heck of it!