I love family traditions. The little things that are important to those that understand them and everyone else just sort of cocks their head sideways and squints their eyes like
hum, ok?
My family has a few, of those little quirks, we hide a pickle in the christmas tree and whoever finds it wins a prize (not to brag or anything, but I am undefeated!) we watch "It's a Wonderful Life" every year sometime between thanksgiving and new years, And we have PUMPKIN FEST. (yes it needs to be in all caps)I know there are more traditions but I'm so blinded by the imaginary bright blinking signs of pumpkin fest that I can't think of them right now.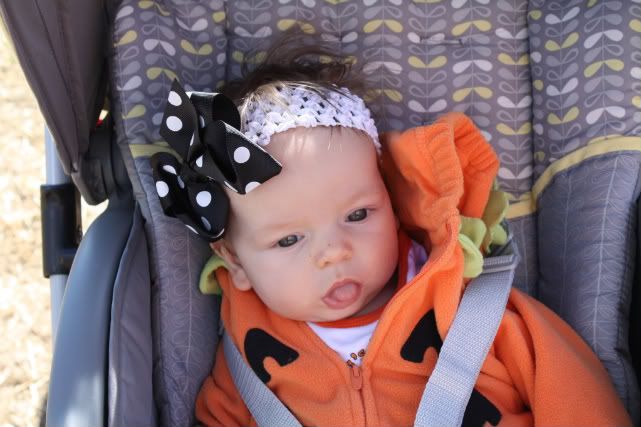 So, to the point, pumpkin fest is a big deal in my family. It is always the third weekend in October which coincidently is always Sweetest day (a holiday that my husband refuses to admit exists) It is near my parent's house at Minges, a local feed store/farm. We have gone every year since as far back as I can remember. Except that one year where I was pretty stinking sick and my father refused to let me come home from college in fear that I would get one of my niece's or nephews sick (I may still be a little bitter about that). Luckily I had great friends in college and one of them took me home for the weekend where I proceeded to tell her younger brother that I couldn't get him sick unless he kissed me. (I may have been slightly delirious) and that's pretty much all I remember from that weekend, that and jell-o.
Well this past weekend was the annual festival and sure enough it delivered a plethora of fall-pleasures, a buffet of fair foods, an exposition of autumn-themed festivities like pony-rides, story-time, hay mazes, and log sawing contests. We were blessed to have virtually perfect weather, upper seventies, a cool breeze that carried the smell of apple cider and camp fires. It was sensational. There is tent after tent of crafts and baked goods, flower arrangements, handmade trinkets and woodwork. But as my dad always says, "
we go for the food
" There is tons of food, fair food, wonderful, unhealthy, magical food that when eaten outside standing up I'm convinced doesn't count against your daily caloric intake! Cajun food, fresh grilled corn on the cob, bar-b-que, potato nests, caramel apple's, roasted almonds, cheesecake on a stick, deep fried everything, goetta, and pumpkin cookies. We indulge, we try each others over priced snacks and then when we're stuffed to the brim, we go for a funnel cake.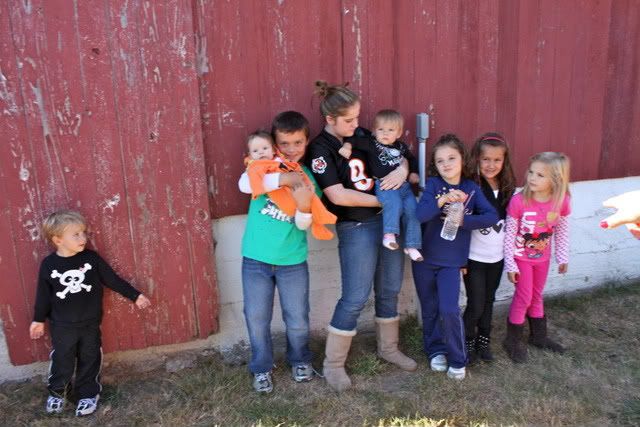 8 of the 10 grandkids
Well this year, for the first time, after attending this sacred event for 20+ years I talked my oldest niece, Liberty, into entering the pie eating contest. Yes it was after the gluttonous endeavor of sampling everything in sight, but in the true competitive fashion of my family one entry turned into a competition with my nephew, Gabe, vowing to beat his older cousin. And we're off, there was an announcement that one more adult was needed so my sister Beth joined in and haphazardly Jada, and Caleb stepped up at the last minute.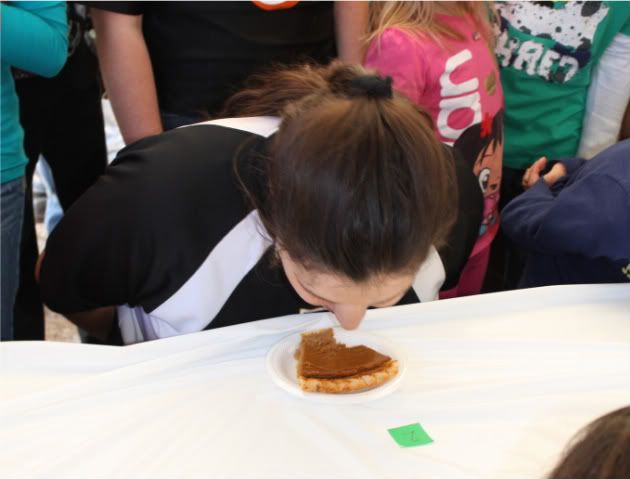 It was awesome.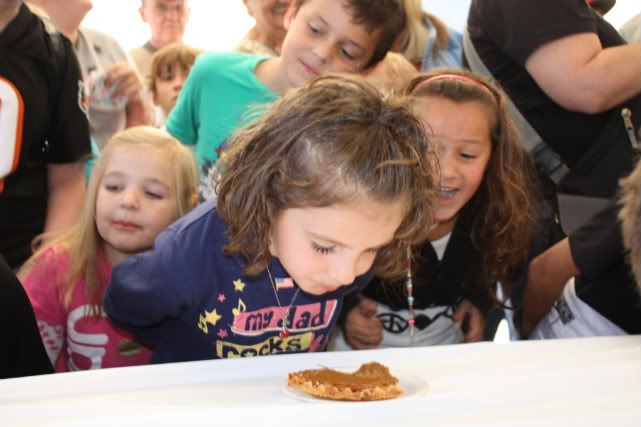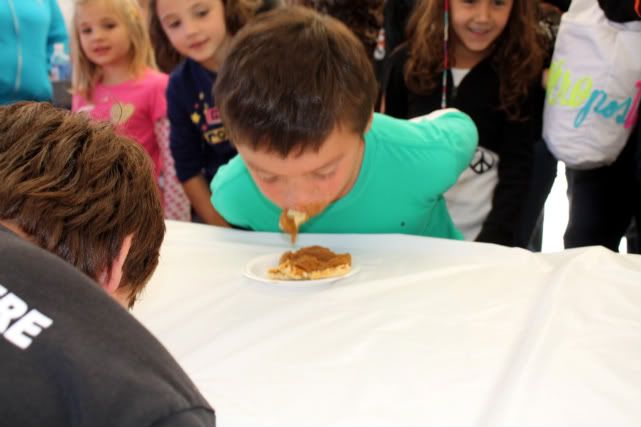 Slightly disgusting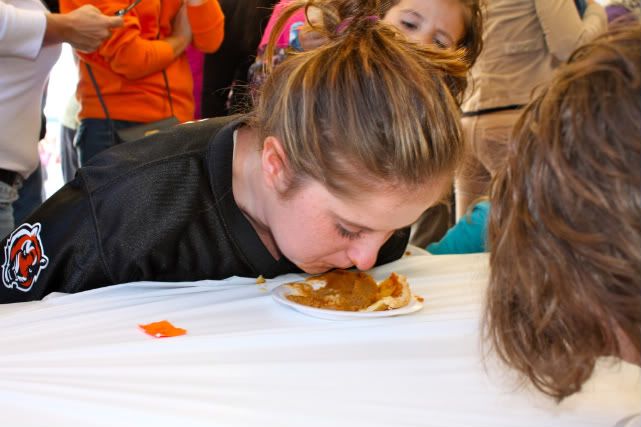 On the brighter side, the pie was free!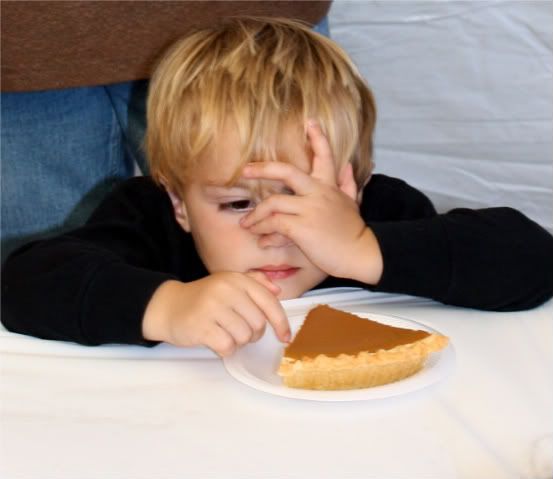 Jared's parents came down for the weekend so our girl had all four of her grandparents under one roof and of course two great grandparents came for a visit as well.
Sunday morning we dedicated Addiston, vowing to raise her in the church, teach her about God and be good stewards of this little miracle the lord has blessed us with. It was wonderful to have our family there to support us and the preacher who dedicated her is basically family himself.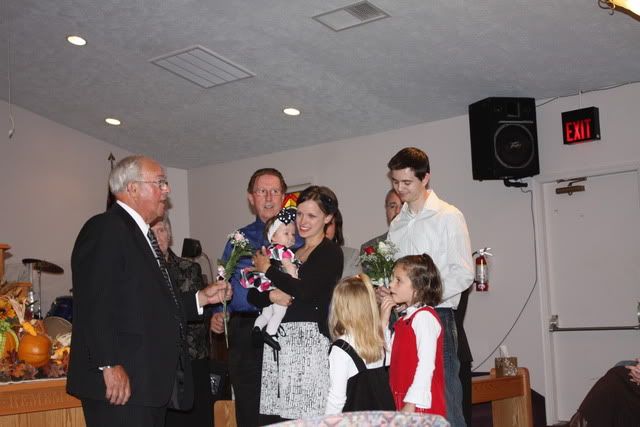 Oh and my favorite picture from the weekend...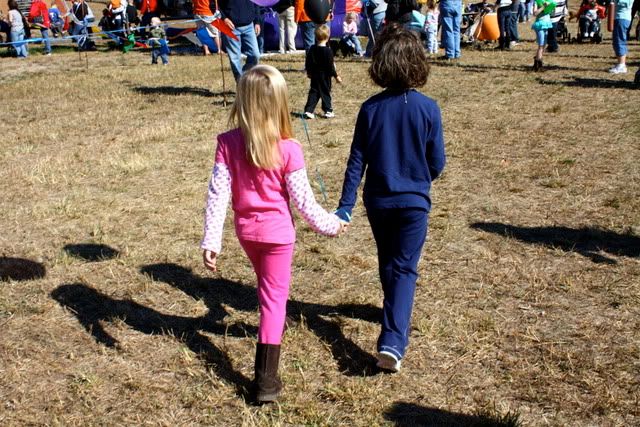 I love the traditions that I've grown up with, the ones that will never die, and the newer ones that may fizzle out or may go down in the record books. I love that now I'm the mama and I get to make new traditions and hopefully one day my little one will carry them down to her family.
So that's it, it's fall. Go carve a pumpkin, drink some cider, jump in some leaves, start a tradition, embrace life!