I started writing this post yesterday at 2:30 in the afternoon with plans to furiously tap my keyboard, cut and paste some codes and hit publish by dinner. But it turned into 5:30, 10:05 & 11:50 with little accomplishment. Between then and now, I got distracted; folded laundry, attended a meeting, made a quick dinner, took inventory of the disaster zone that is my house and finally laid in bed, without remembering to finish or post last night-whoops!
Really though, I went to write several times today but didn't feel it.
I like the way it feels to write when I'm inspired. I like to clean my house when I'm in the mood; savoring the way hot water suds when it hits lemon oil in a bucket or forcefully scrubbing mad circles on the bathroom tile because, at that moment, the world will not go on unless my knuckles are bleach-burned and that tile is spotless. I love to cook when my kitchen's clean, dinner music is streaming, my favorite apron is tied around my waist.
You can't always wait to feel it though--at least that's the antithesis that must be stated to add validity. There are things we have to robotically do whether we feel it or not. Pay bills, work, wake up with crying babies, pack diaper bags, put gas in the car.
And right now I want to write, I want to get out what has been going on in our lives lately because oh so quickly our lives are going to change and while I know I haven't updated as often as I should have do to insane sickness, and then business, I don't want to forget how sweet our girl is right now or the life experiences we've tacked on lately.
We traveled to New York again the last week of May. It was so different than the last time we went as a family. Addiston was vocal about what she wanted to do and see, when she was tired, and what she wanted to eat!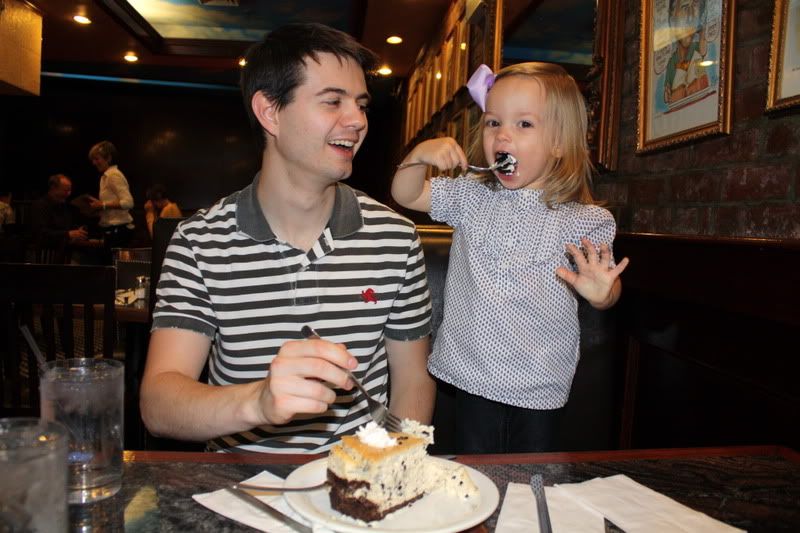 She had her first bit of Cheesecake and we laughed till we cried when she literally dove in to get the first bite.
We met up with some old friends and toured central park, FAO Schwartz, and the Apple store on 5th. Addy made a new best friend in Melody but was a little apprehensive with Josh, at one point she told him to stop talking so much.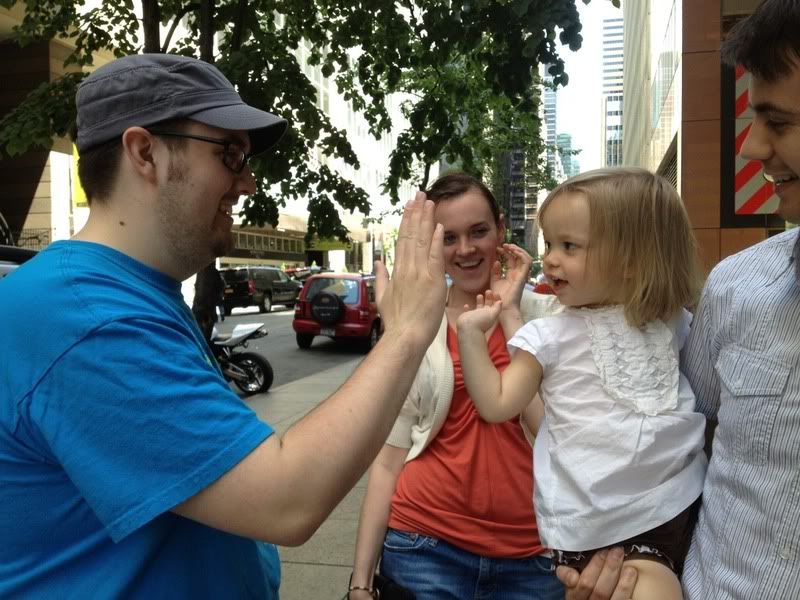 Addiston is learning different animals and their sounds and was very excited to see a row of horses "wearing hair bows" on the outskirts of the Park. One driver thought she was extra amusing and let her pet his horse without paying $5 for a picture.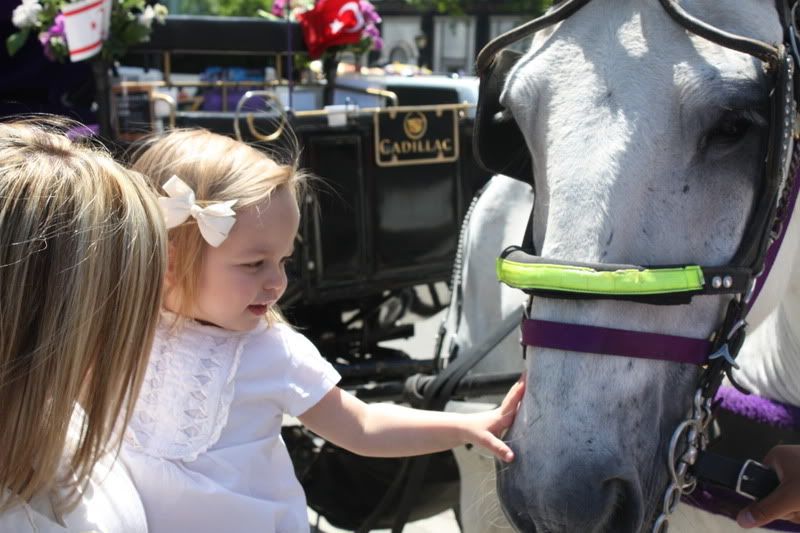 We ate at Bobby Flay's Restaurant Bar Americain and it was wonderful. We tried to go at an in between time (2:30) so that we could take Addiston to a very grown up restaurant and not ruin to many peoples meal. It worked out great, there was another little boy there at the same time as us so we didn't feel too silly.
Jared and I try to not encourage children's menu's, while I know I was a picky eater and ate mostly grilled cheese or mac & cheese for the better half of elementary school we try to give Addiston "real" food and while in NYC that got to be a bit pricy it also provided us a respectable way to sample another dish that we wanted to try on various restaurants menu's! Plus Bobby Flay doesn't do chicken nuggets!
We did however pack some of our familiar snacks from home, and Addiston was more that glad to eat her nightly bowl of cheerios before being tucked into her queen sized bed.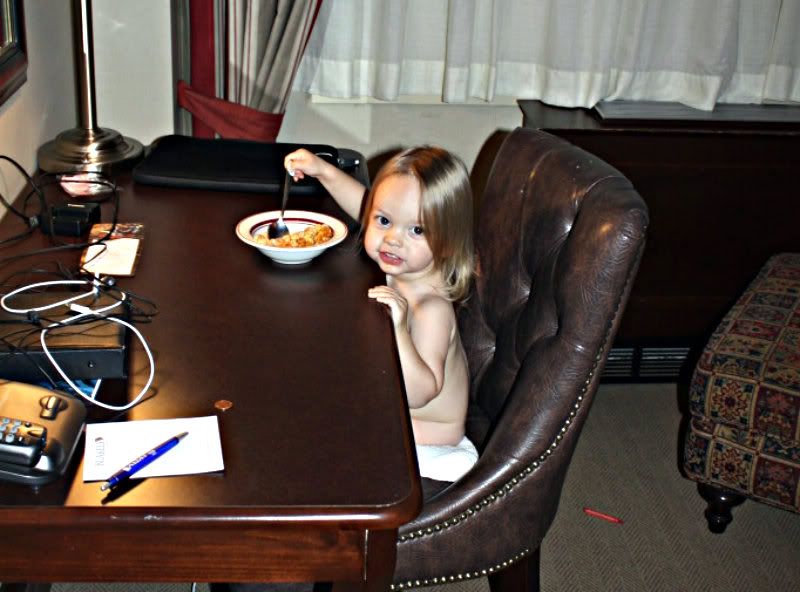 On Jared's final day of working Addiston and I decided to try out the Central Park Zoo, and while it was nice to get out of the hotel room let me just say, I was raised in Cincinnati. They have one of the top 3 Zoos in the country and while there is a lot of hype about there being a "zoo" inside the best city in the world i would equate it to a glorified farm. There was exactly 1 polar bear-sleeping, 2 apes, and a penguin exhibit, other than that, the birds and fish were plentiful. Addiston really wanted the monkeys to say "oo oo, ah ah" but much to her dismay, they simply picked at each other's flea's.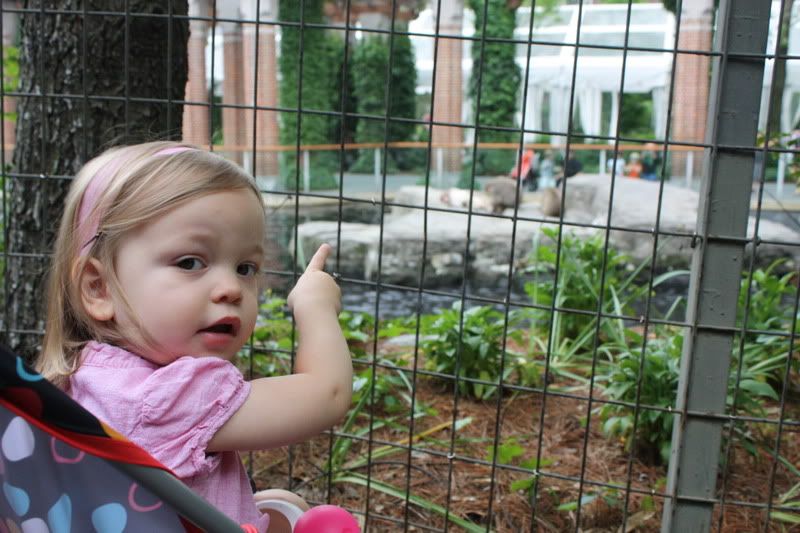 She did however get to feed a "sheepy"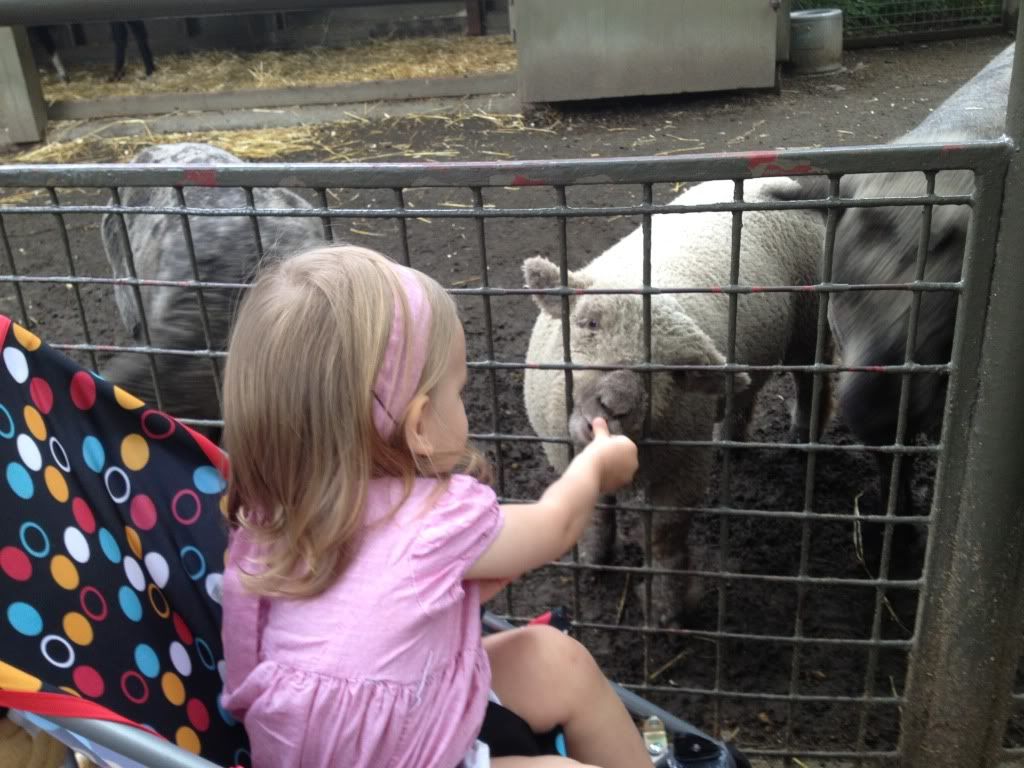 If you look closely at the next picture you'll see something missing...Addiston's Shoes. She and I had been napping in the hotel room before the daddy got off work and we left as soon as Jared got there, we made it three blocks before realizing she in fact was barefoot and turned back to get some shoes.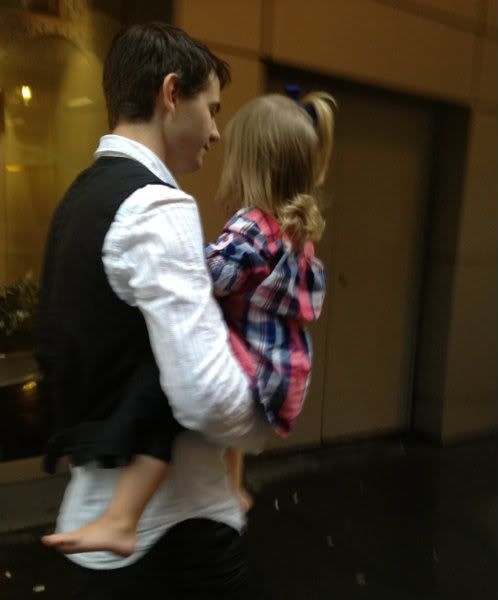 She also got accustom to not having to sit in a car seat while in the city. She did well, sat and watched the "towers go by" and I think she annoyed the drivers when she would echo ever car horn she heard go "beep beep"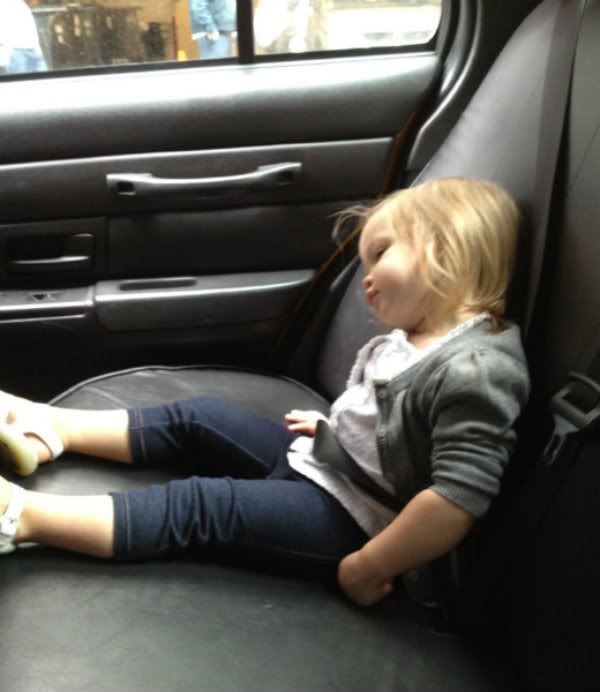 Jared has been to the City several times without us and my tour guide barbie routine is no longer necessary, he has discovered little gems within the city that he got to share with us, like the italian grocery market, an authentic gelato shop and a decent little shop or two.
I was sad to leave but we were all ready to get home and get back to normal. Our flights on the way home of course got delayed and cancelled and delayed again so we didn't get home till the middle of the night but as always our dear friend Nathan was there to pick us up.
Two days after we got home it was Jared's birthday and Addiston was so excited to help decorate the house and bake him a cake. I let her color all over her present to him, and she was so proud of how "cute" it was. And she insisted on adding her balloon to another of his gifts-I know you thought Jared was a big hello kitty fan.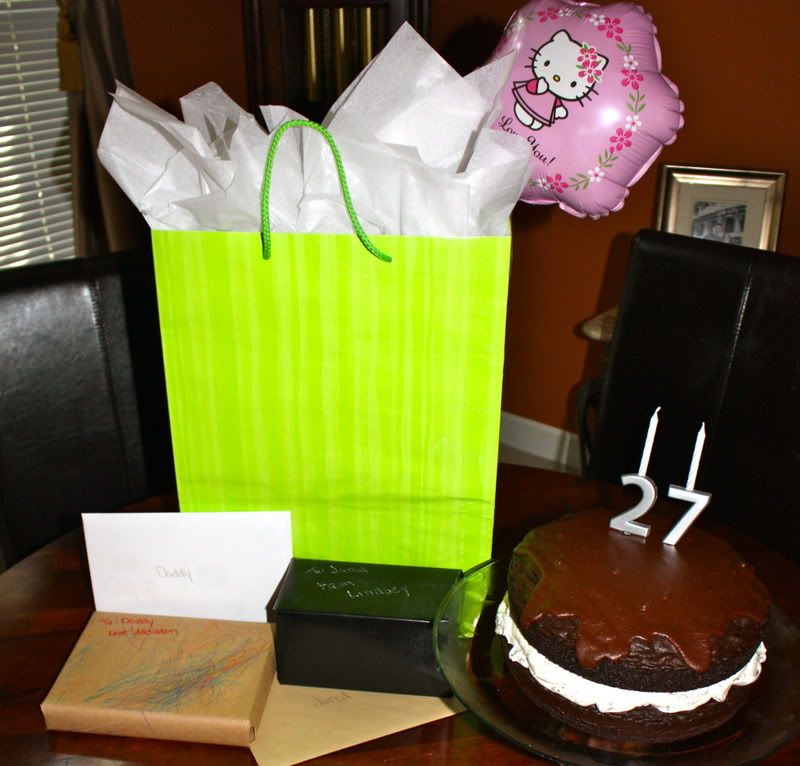 She had her first taste of chocolate cake for the Daddy's birthday and while she liked it she still said she wanted pink cake for her own birthday. I did get to take Jared out on a date for his birthday, our friends Mike and Jill came over to keep an eye on our dear little one so we could sneak off to dinner, and it was so nice to not tag team referee during a meal out as we had all week in the city.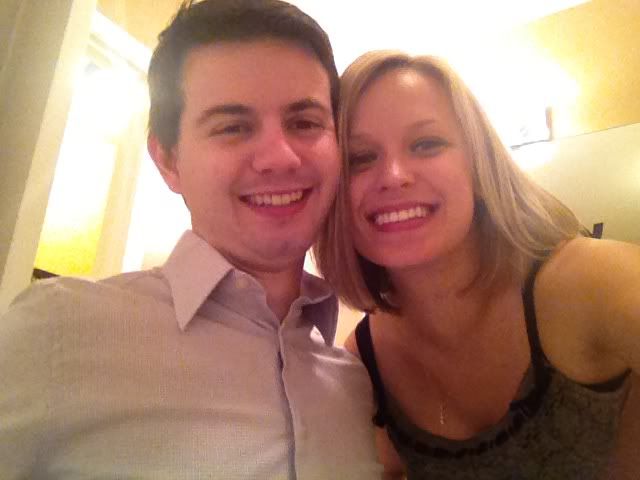 (
Sorry for the blurry picture it was taken from my phone during a little girls bath time-we just don't dress up anymore and I wanted proof!
)
The next day Jared got to pick what we had for dinner and I was less than surprised at what he chose!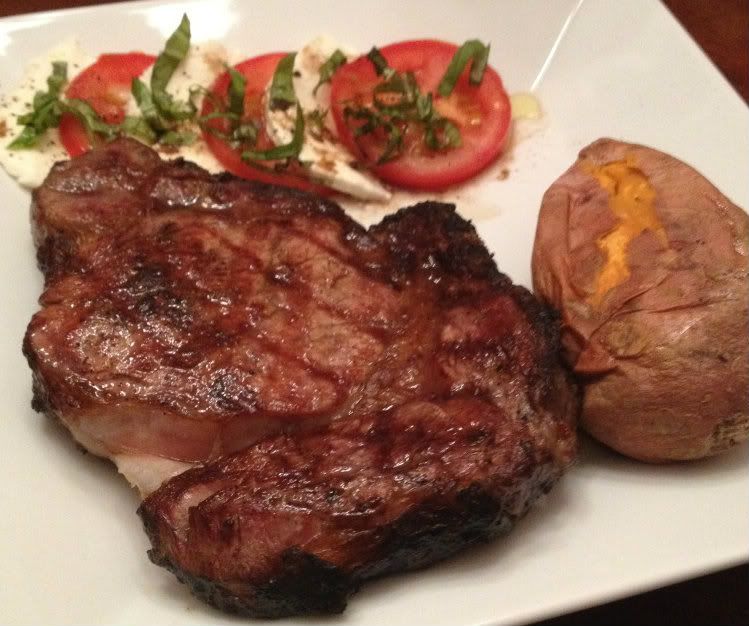 After being home a week with a little one who was used to sleeping in the same room as us, and didn't want to stay in a crib in her own room we decided to jump the gun and move her into a twin sized bed. We're still in the process of refinishing the bed so it's more or less a mattress on the floor but she loves her "own bed" and her pillow, which she carries with her all over the house.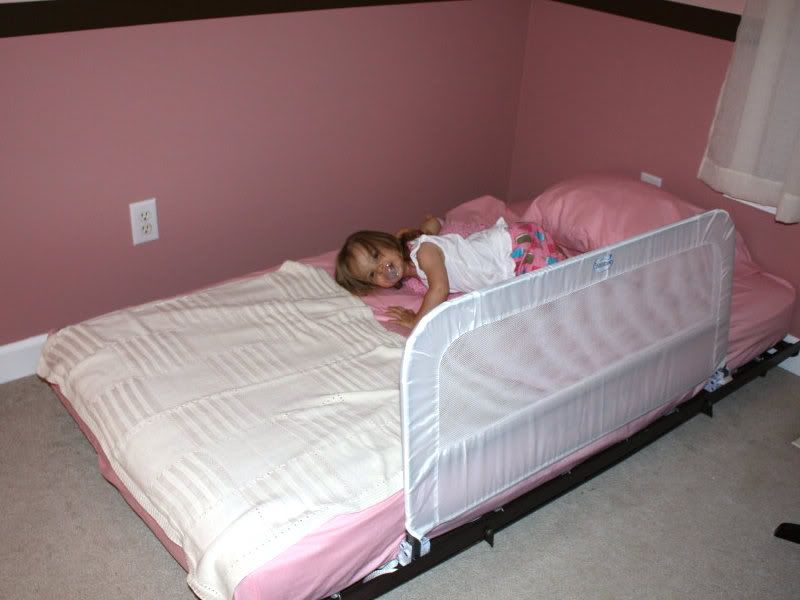 The first few nights were rough, since she could now get out of bed on her own, but now she goes down easier than she ever has and stays in her room till sun up. I'm so glad we were able to make this transition before the baby came so that hopefully the girls disrupt each others sleep as little as possible.
Welp, I have no fancy conclusions, thats just what's going on in our lives.
Sorry this didn't post yesterday!