Well I'm not going to lie, the last two days We spent trapped in our car the majority of the day and it is something that I dread. We try to time our trips when Addiston is sleeping and we take turns driving. Jared says I have road rage, I say most people are just idiots! When we are in confined spaces for too long things can get ugly. I get impatient and chatty, Jared (my patient introvert husband) attempts to appease my chattiness but really I know he wants to ring my neck and duck tape my mouth. It may have taken us 5 hours to make a 3 1/2 hour trip but we made and still said I love you when we went to bed so it all worked itself out!
I am methodical in how I get ready for trips, planning out coordinating outfits for our little family, packing separate bags for their designated houses, making sure we have an extra set of clothes each and double checking for each essential item. But lately my mind has been scattered, I have been planning ahead and getting lost in my head. So maybe we will only match one day this time and maybe Jared only has one pair of pants for our 5 day trip, maybe not. I'm not sayin'
We like to spend Thanksgiving at my in-laws. Nothing against my family but lets face it, Amish country=better food!
A couple of weeks ago when we were headed home I remember talking to Jared about feeling un-thankful. I know I am so blessed and that I have a beautiful healthy immediate family and an amazingly supportive extended family but for some reason I was in a little funk and felt a little guilty about it. But the last few Sunday's our pastor has spoken about some really powerful stuff that has stirred up a renewed spirit in me and I have been overwhelmed with gratitude and thankfulness this past week. I'm so thankful for my husband who is patient with me and prays with me, but mostly I'm thankful for my Lord and that as 1 Thessalonians says, I can give thanks in all things, not necessarily for all things, but regardless of my circumstances I will thank the Lord for my life, my family, and His grace, in all things.
Check us out:
Last year
and this year.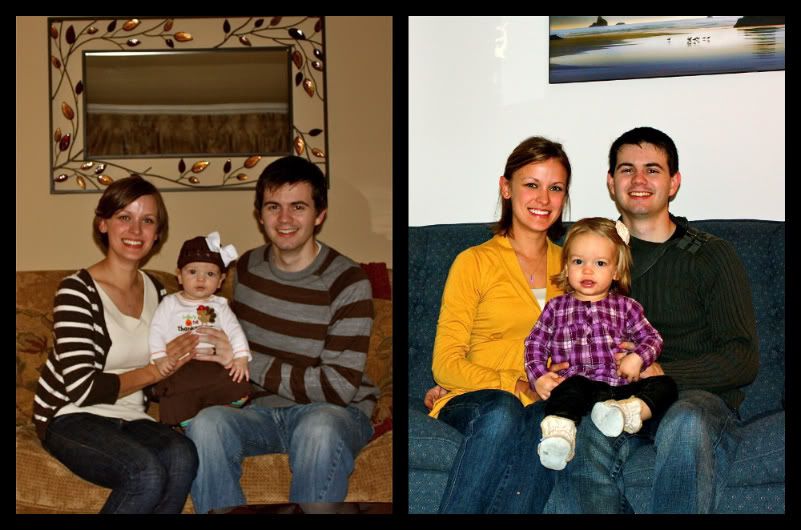 She's growing like crazy!
Happy Thanksgiving!